Seller Buy Downs
Our Real Estate Market has seen a 220% increase in supply over the past 5 months, putting pressure on Sellers to compete.
Price reductions have gone up 500% since March, but have done little to increase demand as mortgage rate increases continue to make payments high.
Some Lenders are pulling out a tool that has not been used much in the past 10 years - the Interest Rate Buy-Down!
What Is A Buydown On A Mortgage?
A buydown is a way for a borrower to obtain a lower interest rate by paying discount points at closing. Discount points, also referred to as mortgage points or prepaid interest points, are a one-time fee paid upfront. In the case of discount points, the interest rate is lower for the loan term.
Who Can Buy Down A Mortgage?
Although it's the buyer (or borrower) who benefits from a buydown, the buyer isn't always the one who buys down a mortgage. Sellers and builders can also be responsible for purchasing points to lower the buyer's interest rate.
Here are some examples of how Buydowns affect payments:
Summary: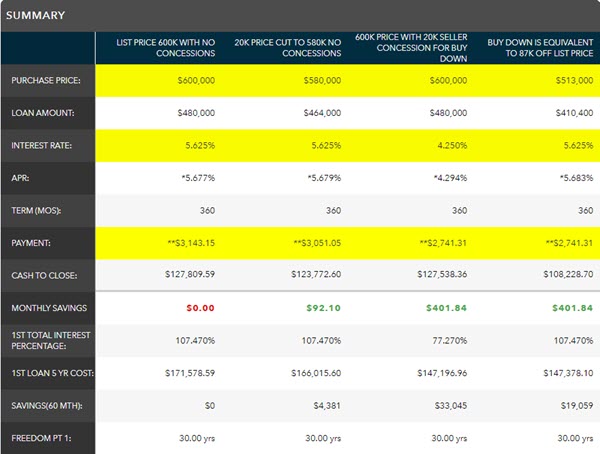 Monthly Payment Difference:
Savings Over 60 Months:

Interest in 15 Years:

Please reach out to me for more details and how this can affect your home purchase