From higher-density developments to unmanned model homes, these are the ideas that will dominate this year.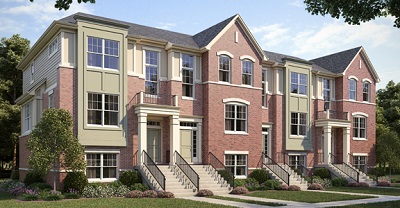 With many analysts predicting a steady yet flat housing market in the new year, U.S. builders will need to be at the top of their game in 2019 to turn home shoppers into home buyers. This means staying abreast of what's on the mind of consumers, who are doing their homework before coming in to the sales office.
"My clients are starting to take more time analyzing deals and understanding what their money buys in this shifting market," says Massachusetts real estate agent Dana Bull.
Here are some of the trends and developments that will impact residential real estate in 2019:
Affordability. With a shortage of attainable housing in many markets across the country, addressing the "missing middle" segment will offer significant opportunities for home builders in 2019. Jeff Benach of Chicago-based Lexington Homes notes much of the demand for affordably priced housing comes from educators, healthcare workers, and tradespeople who are priced out of gentrifying city neighborhoods.
Designed in response to this problem, his Lexington Village project offers 22 single-family rowhomes priced from the low-to-mid $500,000s in Chicago's trending Avondale neighborhood. "This infill site was a hidden gem, and allowed us to build new-construction family homes for almost $100,000 less than similar new and existing homes in the neighborhood," he says.
Density. Higher-density housing will help reduce builders' direct costs in 2019, says Garrett Hoskins, project director at Irvine, Calif.-based Robert Hidey Architects (RHA), who notes that collaboration between builder, trades, and architect is essential to creating denser projects.
But even in higher density products, buyers don't want to give up certain components of a home, such as a first-story suite, flex rooms, or outdoor spaces, so the firm adapts its plans to accommodate those demands. At the Almeria community in San Diego, RHA offers homeowners spacious bonus rooms with an exterior staircase and entry that owners can choose to list on sites like Airbnb as a second source of income. "For each empty lot we begin designing for, we ask ourselves, 'How can we create as much value as possible here?'" says Hoskins.
First-time buyers. In 2018, the pace of buying new homes by millennials finally gained traction. National Association of Realtors recently put the national percentage of millennial buyers at 34%. Sixty-five percent of these buyers were first-time buyers. For millennials, decisions will often come down to location, amenities and – crucially – price. As they overcome obstacles such as student-loan debt, they seek the ideal time and location to enter the market and 2019 will be the year to buy for many, says Suzanne M. Maddalon, vice president of marketing for Freehold Communities, a Boston-based developer.
Floor plans. The hottest plans change every year and this year, director of content for the Hanley Wood House Plans Network Aurora Zeledon says one of the biggest trends will be in-law suites on the main floor, ranging from simple bedroom suites to all-out mini-apartments with a separate living zone and kitchenette. The modern farmhouse look will continue to be the hot style of the moment, and along with it, exteriors that showcase siding in different ways, such as vertical siding on top and traditional horizontal on the rest of the home, she adds.
Wellness. A focus on health and fitness will be at the forefront of 2019's biggest housing trends, says Mary Cook, president of Mary Cook Associates, a Chicago-based interior design firm. "To truly embrace wellness, builders, developers and designers must consider all the possibilities of how the property will be used and build in everything from fitness space to community gathering places for residents," she says. "Social connectivity is as important to overall wellness as is physical activity."
Teleworking. Whether taking files home from the office or working at home full time, buyers are telecommuting more than ever before. Builders and communities will accommodate this trend in two areas, says Alison Girard, director of marketing for Brookfield Residential's Playa Vista community in Los Angeles. These include inside the home, where they are creating home offices or other flexible spaces and equipping the entire residence with smart-home technology. Outside the home, builders are offering community centers with amenities such as co-working space, internet cafés, package delivery, and outdoor WiFi parks with tables for laptops.
Market volatility. Perhaps the biggest trend for the new year is how difficult it will be to predict what will happen to the housing market, says Dale Stroud, senior business advisor for piping manufacturer Uponor. He points to rising mortgage rates, increasing home prices, declining optimism, the labor shortage, a jittery stock market, and a lack of housing for entry-level buyers as some of the reasons why the 2019 housing outlook is filled with uncertainty.
"To make it even more confusing as to why there is a blurred image, consider that some of the general fundamentals are positive," he adds. Upbeat indicators like strong consumer confidence and employment and good GDP growth will make 2019 a mixed bag for builders, he says.