Can we break our 10-year cycle of mediocrity?
Atlanta, the former No. 1 new-home market, remains a barometer for the nation. At 25,000 permits, Atlanta is still the third largest new home market in the U.S., but almost nine years into our "recovery," we are still 50% below our pre-bubble normal (Atlanta permit chart). This is in spite of nearly a decade of positive job growth, positive in-migration and population growth. All of MarketNsight's 18 cities across the Southeast exhibit this trend. Most cities are still anywhere from 30% to 60% below pre-recession levels. Whom are we missing?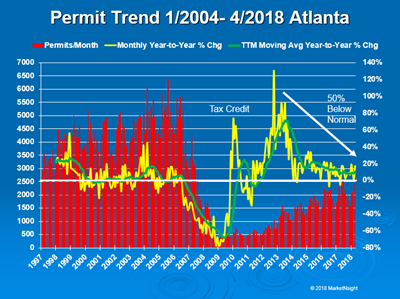 Old Normal versus New Normal
In our "Old Normal" before the 2003 to 2006 bubble, first-time buyers and first-move-up buyers made up 60% of all new home sales. In that old normal, people typically bought their first home at the age of 25, started a family and moved to their second home (first move-up) by the age of 32. Currently, they account for less than 40% of new home sales. Today's first-time buyer is 33-years-old and getting older! We are missing many of the 25- to 32-year-old buyers who previously accounted for 60% of all new home sales. We call that age group today...millennials. Moreover, we will never achieve our "Old Normal" sales numbers in this country without them.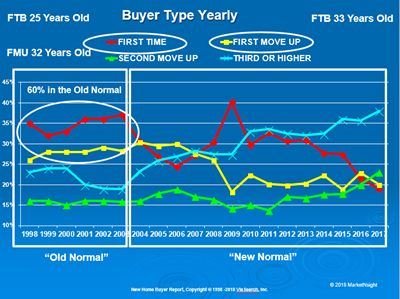 As proof, just keep all other buyer types constant and take first-time buyers and first move-up buyers back to their pre-recession norms. This would bring Atlanta back to 50,000 permits and the US back to 1.3 million starts.
There have been countless articles written about millennials' absence from the new home market. It comes down to this – we cannot give them what they want, where they want it, at a price they can afford... yet. We are in the very early stages of seeing some much-needed innovation in our industry, aimed at recapturing a small percentage of that all-important first-time buyer.
Source: Builder Online