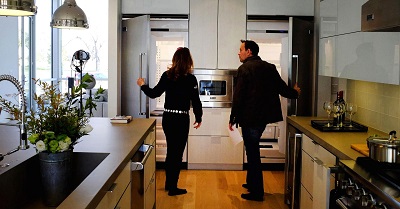 Is this a good time to buy a house?
That's complicated.
Economic conditions like a strong job market say "yes." Housing market fundamentals like too few homes available for sale say "no." Personal views about owning versus renting say "maybe."
In Gallup's most recent survey, far more Americans said yes than no, although the 65% response rate was down from 67% last year, and down even more from 74% in 2014, when the housing recovery was kicking into high gear.
Gallup first asked the question back in 1978, and the survey firm notes that the percentage of Americans saying it's a good time to buy has never fallen below 50%.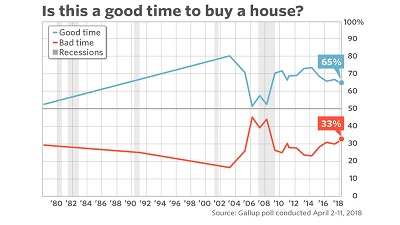 The poll also asked whether respondents thought home prices in their local area will rise, and 64% said yes — the highest since 2005, as the housing bubble was reaching its peak. Since Americans still say that real estate is their preferred asset class in which to invest, Gallup believes the tick down in the number of people who think now is a good time to buy reflects awareness of market conditions — low inventory, high prices.
The recent rise in mortgage rates — and a belief that financing costs will keep going up – may also be contributing.
Gallup's chart reveals some striking patterns beyond whatever it may say about current conditions. It's almost a straight line up from 1978 through 2003 of people saying "now is a good time to buy," with those saying "now is a bad time" declining just as steadily, in tandem.
But the period since the housing crisis has been much more rocky — mirroring the market.
Now it may be notable that the number of people who want to buy has settled at 65%. That's almost precisely the actual homeownership rate.