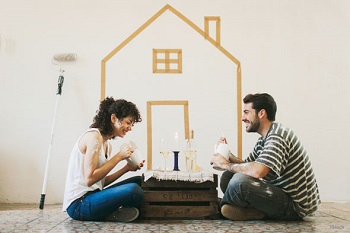 Realtor.com: 23% of buyers between 18 and 34 years old reported rising rent as a trigger for their desire to purchase a home – more than any other option.
The typical spring buyer this year is on the hunt for a three-bedroom, two-bathroom home with a garage and up-to-date kitchen, according to a new survey released Friday from Realtor.com®.

The survey also revealed family needs and rising rents are motivating millennials to get into the market, while 55+ buyers are looking for privacy and comfort in their new home.
"Although record-low inventory and high prices make this housing market unique, some classic features still top most shoppers' wish lists," said Danielle Hale, chief economist for realtor.com®. "At the same time, we found some clear differences in priorities. For instance, older buyers are concerned with privacy and being able to age comfortably, while millennials place more emphasis on family needs, stability, and personal expression."

Based on online survey of more than 1,000 active buyers conducted in early March by Toluna Research, the survey provides insight into both the most sought after homes as well as the motivations underpinning what shoppers are looking for.

Majority of buyers want space, multiple bathrooms, and a garage.
The survey found many commonalities among home buyers of all ages. In fact, 44% of all respondents said they are looking for a three-bedroom home and 93% of respondents want at least two bathrooms. Additionally, 27% of all buyers rate a garage as one of the most important home features, ahead of an updated kitchen, 24%, and open floor plan, 20%.

Older Buyers Want Privacy & Comfort; Millennials Favor Family & Self-Expression
According to the survey, more than 20% of buyers 55 years and older said that privacy – having a space solely of their own – was their main goal for purchasing a home. That was followed by their motivation for physical comforts at 18% and stability, at 15%.

By contrast, family needs took precedence for younger buyers. Fulfilling family needs took the top spot for millennial buyers, at 17%, followed by stability at 14% and personal expression at 13%. Only 12% of buyers younger than 55 cited privacy as their chief priority. Only 9% of 35- to 54-year-old buyers and 6% of 55+ cited personal expression as a main goal for purchasing a home.

For Millennials, the Rent is Too High
23% of buyers between 18 and 34 years old reported rising rent as a trigger for their desire to purchase a home – more than any other option. This corresponds with steep increases in rents across the country in recent years, especially in many high-cost urban areas that have become magnets for millennials. HUD data shows that rents were up in 85 of the top 100 metro areas, including 9 metros where rents were up by double-digit percent from a year ago.

Millennials Like Contemporary and Colonial Homes; Older Buyers Prefer Ranches
Among millennials who expressed a home-style preference – 11% didn't – contemporary and colonial homes took the top spots, each favored by 10% of respondents. On the other hand, ranches are the most popular home style for buyers 55 and older, favored by 28%, followed distantly by contemporary homes at 12%. Only 6% of millennials favor ranch homes.